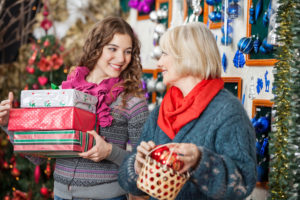 During this holiday season, we hope that you get the chance to get out and about in Smithfield and the surrounding eastern North Carolina area and take advantage of all that our area has to offer.
At Armstrong Law Firm, P.A., we enjoy this time of year as much as you do.
As members of the Smithfield and eastern North Carolina community for more than 30 years, we consider ourselves well-versed on the events and attractions our area has to offer during the holidays.
So, we have put together this handy "to-do" list of the top five things that we hope you take the time to enjoy.
Whether you are busy decking the halls, shopping for those on your gift list or making memories with family friends, you have our best wishes for a safe, happy and enjoyable holiday season.
1. Enjoy holiday shopping for cool deals and Christmas gifts.
With most stores open extra-long hours, now is the time to take advantage of some of those last-minute deals. In Smithfield, you should visit the Carolina Premium Outlets for deep discounts or scout that one-of-a-kind find at a local antique mall.
2. Spend time with family and friends in Smithfield, Raleigh, Fayetteville, Wilmington or elsewhere in Eastern North Carolina.
What would the holidays be without get-togethers with family and friends? Just be sure to use caution when heading out on the roads. Check the weather before you go. Make sure your vehicle is well maintained. Above all, avoid drinking alcohol if you will be behind the wheel.
3. Enjoy putting up holiday decorations or checking out Smithfield holiday lights.
Sorting through your own holiday décor can bring back family memories and so can taking a drive to check out your neighbor's lights. Visit Smithfield's many holiday light displays, including the town Christmas tree, or check out VisitNC to get a complete listing of light shows in the surrounding areas.
4. Educate family and friends about holiday safety tips.
While you are entertaining family and friends, take the time to educate them about potential safety hazards that could dampen the holiday spirit.
The National Safety Council warns that fires increase dramatically over the months of December and January. The organization urges caution with appliances such as turkey deep fryers and electric heaters while also urging homeowners to be aware of potential hazards when using lights, candles or fireplaces around live trees.
5. Head to nearby Raleigh for Winterfest.
Through the end of January, you can make the short drive from Smithfield and check out Winterfest in downtown Raleigh. One of the main attractions of the event is Ice Raleigh, which is the only outdoor ice skating rink that you can find in the Triangle region.
The Armstrong Law Firm – Strong for You

Whether you are looking for a family law attorney to handle sensitive personal matters or a business dispute lawyer to protect your rights in your professional affairs, our husband and wife team provides the strong, caring legal representation you need to ensure your best chance for success.
Make sure to visit our blog for more valuable tips and helpful information or call or contact our office online today to request a consultation about your legal matter.