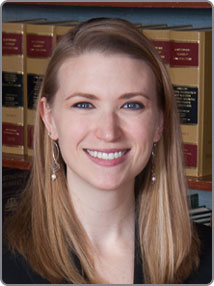 Eason started working with The Armstrong Law Firm, P.A., alongside her family in September 2015. A local of Smithfield, Eason returned home after graduating from Wake Forest School of Law in May 2015.
Eason is a "Double Deac." She graduated from Wake Forest University with a Bachelor of Arts in History and Religion in 2012. She knew she made a wise decision to continue her legal education at Wake Forest when she met her husband, Daniel, during her first week of law school.
Eason welcomes the opportunity to be "Strong for You" in the courtroom. While at Wake Law, Eason honed her trial advocacy skills, participating in Litigation Clinic, competing in and qualifying for Trial Bar, achieving the highest grade in Trial Practice, and receiving the North Carolina Advocates for Justice Award and the CALI Award for Excellence. Her leadership, editing and writing abilities landed Eason a position on the Board of Editors for the Journal of Law & Policy.
Following in the footsteps of her mother, Marcia Armstrong, Eason handles a variety of domestic claims with a focus on equitable distribution of marital assets. Eason is an active member of the North Carolina Bar Association, Johnston County Bar Association, and the North Carolina Pro Bono Society. She also serves as the Chairwoman of the Board of Directors for Johnston County Department of Social Services. Eason devotes her (little) free time to spending time with family (including her toddler), exercising, reading and travelling.