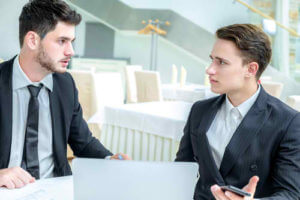 Dispute Attorneys Strong For You
The partners, members, or shareholders who come together to run a business have a duty to make decisions that are in the best interests of the business – but what those "best interests" are, and how best to achieve them, are often flashpoints for disagreement. As a result, business disputes between shareholders, partners, or members can easily occur.
Shareholder, partnership, and member agreements are extremely important to maintain the integrity of a business, to provide for the transfer and purchase of interests upon death or separation from the business, and otherwise to resolve disputes that may arise. When a company or its shareholders or partners do not comply with such agreements or with their fiduciary obligations, swift action to protect your interests may be necessary.
When a dispute becomes too complex or emotionally charged to handle easily, you may need the assistance of an experienced business dispute attorney to help you sort out the legal and business issues and chart a clear path forward. The Eastern North Carolina business dispute attorneys at The Armstrong Law Firm, P.A. have been helping eastern North Carolina businesses resolve leadership disputes for over 30 years.We're prepared to be Strong for You when it comes to resolving shareholder, partnership, and membership disputes.
Types of Shareholder, Partnership, and Membership Disputes
A shareholder, partnership, or membership dispute may arise in any number of contexts. Maintaining the integrity of the business, providing for the transfer or purchase of interests if a shareholder, partner, or member dies or leaves, dealing with cases of fraud or unfair business practices, or simply resolving conflicts about what is best for the business are all situations in which a dispute can become complicated.
A business dispute might involve one of the following:
Breach of contract
Breach of fiduciary duty
Collections and money disputes
Corporate buy-outs
Corporate liquidation
Dissolution of shareholder, partnership, or membership agreement
Fraud or unfair business practices
Minority shareholder rights
Misappropriation of trade secrets
Property disputes
Shareholder derivative claims
Usurping corporate opportunities
Options for Dispute Resolution
While a trial is frequently an option in a membership, partnership, or shareholder dispute, it is not always the most effective or cost-efficient method of resolving the issue. Instead, our attorneys work to ensure that you are aware of the full range of dispute resolution options and that you can take advantage of those options that are most likely to help you reach a favorable result while still managing your costs.
Mediation and arbitration are two common methods of alternative dispute resolution (ADR) that may be used in disputes between shareholders, partners, or members.
In mediation, the parties to the dispute work with their respective attorneys and a neutral third-party mediator to reach an agreement. The mediator's role is to help the parties find common ground and to assist them in managing the flow of information related to the case, so they can keep key items in mind while seeking a mutually agreeable result. Each party may consult with their attorney at any time regarding the agreement that is taking shape. If the parties are unable to come to an agreement, they are generally able to leave mediation and pursue arbitration or go to trial if needed. Mediation sessions are typically confidential, so they can be used even when the dispute concerns a trade secret or other proprietary information.
In arbitration, the parties and their respective attorneys present their evidence and testimony to a neutral arbitrator, who then makes a decision. If the arbitration is "binding," the parties must adhere to the arbitrator's decision. Often, the arbitrator is chosen by the parties and is a professional with experience in matters like the one he or she will consider at arbitration. Arbitration is more formal than mediation, but it frequently requires less time and money to prepare for arbitration than for trial – allowing the business to save money while still pursuing an effective resolution of the shareholder, partner, or member dispute.
When a Business Dispute Poses an Immediate Threat
Some business disputes unfold at a pace that can be addressed through either alternative dispute resolution or conventional trial processes. Others pose an immediate threat to the well-being of the business itself. If your business is facing a potential threat, options like seeking an injunction can preserve the status quo while an investigation is carried out or the dispute is resolved.
In any business dispute, the assistance of qualified experts in fields other than law may be essential. For instance, a case may require the assistance of a forensic accountant, a business valuation expert, or experts with deep inside knowledge of the product, service, or business processes involved in the dispute. At The Armstrong Law Firm, we've been representing business clients for more than30 years. In the process, we have built relationships with a number of qualified experts in the area who can be called upon to provide their professional examination of a dispute in order to help bring it to resolution.
Shareholder, Partnership and Membership Dispute Attorneys
If you are a shareholder, partner, member, or executive in a business, your business represents a significant investment of your time, money, and attention. A dispute among shareholders, partners, or members deserves the attention of an experienced attorney who is dedicated to providing experienced advice and strong leadership.
At The Armstrong Law Firm, P.A., our Eastern North Carolina business dispute attorneys pride themselves on offering experienced and assertive legal representation in a family-like office setting. We listen carefully to the nature of the dispute and strive to understand all of the angles, so that we can offer advice and solutions that are custom-tailored to your situation and your business's needs. In mediation, arbitration, or trial, we stand Strong for You, fighting for the goals that are best for your business.
Contact us today so we can review your business's situation and formulate a plan to reach a resolution.