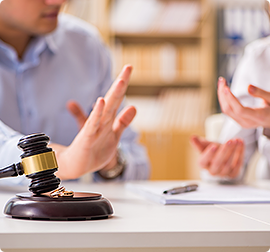 Attorneys Marcia H. Armstrong and Eason Armstrong Keeney and our staff bring a wealth of in-depth legal knowledge and experience to our family law clients at The
Armstrong Law Firm. We currently focus our practice on complex property division and support issues.
Divorce is highly stressful and complicated. Divorcing couples are often overwhelmed with dividing real estate, business interests, retirement accounts and other complex assets.
You can count on us to be strong for you when you face these financial struggles in separation and divorce. We will protect your rights and interests through wisdom gained from practicing family law for more than 30 years.
Marcia is a N.C. Board Certified Specialist in Family Law. Need a separation agreement or a strong presentation in court? Marcia and her team are sophisticated, skilled negotiators and trial attorneys who get results. She always puts your goals first.
To discuss property division and other divorce-related issues, please contact Marcia and our legal team today. We will provide a timely and confidential consultation.
More than 30 Years of Family Law Experience and Expertise on Your Side
Marcia holds many honors and certifications, reflecting her skills and high standards provided to family law clients in Smithfield, Raleigh, Fayetteville, Wilmington and communities throughout Eastern North Carolina:Marcia is a N.C. Board Certified Specialist in Family Law. Marcia earned this distinction in 1989 and has received recertification every five years since. To be certified, a lawyer must satisfy a number of rigorous standards, including substantial involvement in family law and positive reviews from fellow attorneys.

"When you are looking for a lawyer, you can use board certification to identify lawyers who are qualified to represent you," according to the N.C. State Bar Board of Legal Specialization.

Marcia received the N.C. Family Law Specialization Board's Sara H. Davis Excellence Award. This honor goes to an individual who "exemplifies excellence in his or her daily work as a lawyer and serves as a model for other lawyers."
Marcia is a Fellow in the American Academy of Matrimonial Lawyers (AAML). The AAML limits membership to lawyers who meet strict criteria. The AAML is widely regarded as the country's pre-eminent family law association. The AAML only accepts attorneys who achieve the highest level of professional skills, ethical integrity, and service to the profession. As an AAML Fellow and past president of the AAML North Carolina Chapter, Marcia is recognized and well-respected by family law attorneys across the state and nation.
Marcia is a longtime member of the N.C. Association of Women Attorneys (NCAWA). She received the organization's Gwyneth B. Davis Award "for the promotion of the participation of women attorneys in the legal profession and the rights of women under the law."
Marcia is a former chair of the N.C. Bar Association's Family Law section. She received the NCBA's Distinguished Service Award for her service to the section, including her work on numerous family law continuing legal education (CLE) programs. Marcia also received the NCBA's Citizen Lawyer Award in recognition of her community service, including her work with Harbor, Inc., a non-profit that helps victims of sexual assault and domestic violence in Johnston County.
Marcia's peers selected her for inclusion in Super Lawyers® based on her skilled, committed and ethical representation of clients. Additionally, she has an "AV Preeminent" Peer Review Rating™ in the Martindale-Hubbell® legal directory – the highest possible rating of skill and ethics – and she is listed in Best Lawyers® – an honor based on peer evaluation.
When you work with The Armstrong Law Firm, you will quickly see what "Strong for You" means. Our team brings enthusiasm and sincere passion for practicing family law to your case every day. We care deeply about each client and work tirelessly for each one.