Marcia High Armstrong
Residence: Smithfield
Education: Salem College (B.A.), Wake Forest University School of Law (J.D.)
Firm: The Armstrong Law Firm, P.A.
Practice area: Family law
On being a Citizen Lawyer: "Reaching out to others in need makes me a happier person and, consequently, a more effective and compassionate lawyer."
Story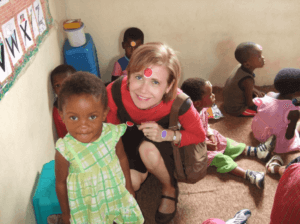 With her church youth group and the World Vision network, Marci Armstrong has taken a dozen mission trips through the years to impoverished areas all across the world.
On her most recent mission to a village in Swaziland, Armstrong said she saw something amazing in the midst of the impoverished, drought-stricken region.
"These people have nothing, but yet, everywhere we went, these people had smiles on their faces," said the Smithfield lawyer, who recently received the N.C. Bar Association's Citizen Lawyer award. "They were just happy to see us."
Bringing light into the lives of others is something that has driven Armstrong in her family law practice as well as in her volunteer activities – most of which have taken place much closer to home than Africa.
In particular, Armstrong has been one of the leading voices and volunteers for Harbor, Inc., a non-profit organization that she helped to start 25 years ago to help victims of sexual assault and domestic violence in Johnston County.
Harbor started out by operating in donated office space in a local church. Today, it features its own offices and staff, a 14-bed shelter, a transitional home and a wide array of support groups and programs aimed at helping families through times of crisis.
"We've come a long way," said Armstrong, a member of Harbor's original board of trustees. "It's an organization that has touched so many lives and people."
After Armstrong and her daughter, Eason, were hit by a drunk driver in 2006, she took the extraordinary step of donating all proceeds from her personal injury settlement to Harbor at a time when the organization was feeling pinched by the down economy.
And just this spring, as president of the Johnston County Bar Association, she managed to recruit a group of lawyers to help build a new playground for Harbor's children.
"It enjoys a very good relationship with the community for obvious reasons," Armstrong said of Harbor. "It's just one of those causes that's hard to say no to."
For Armstrong, it all fits with her personal philosophy.
"You don't have to go to Africa. It can be something really small," she said. "The point is to reach out and do something for somebody else.
"There's a mutual benefit. You're helping another person, and I think that makes you happier as a person, a mom, a friend and a lawyer."
About the Citizen Lawyer Award
The NCBA Citizen Lawyer Award was established in 2007 to recognize lawyers who provide exemplary public service to their communities. Honorees include elected and appointed government officials, coaches, mentors and voluntary leaders of non-profit, civic and community organizations. Since 2007, there have 64 recipients of the award.
About the N.C. Bar Association
The North Carolina Bar Association, founded in 1899, is a voluntary organization of lawyers, paralegals and law students dedicated to serving the public and the legal profession. The N.C. Bar Center in Cary serves as headquarters for the NCBA and the NCBA Foundation, Inc. Though similar, the NCBA (www.ncbar.org) and the mandatory North Carolina State Bar (www.ncbar.gov) are not affiliated.