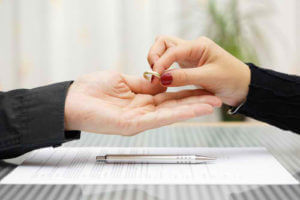 Divorce in North Carolina
Information Provided by Eastern North Carolina Divorce Attorney Marcia H. Armstrong
Spouses going through a difficult divorce or attempting a complex property division need a knowledgeable family law attorney on their side. Divorce is not a legal matter that you can go through alone or with inexperienced counsel, as any mistakes or oversights will have profound effects on your rights to property. Eastern North Carolina divorce attorney Marcia H. Armstrong is a past president of the North Carolina Chapter of the American Academy of Matrimonial Lawyers (AAML), and is locally and nationally recognized for her family law practice.
Considerations for Divorce and Equitable Distribution of Property
Marcia focuses her legal practice on complex property distribution in divorce. In North Carolina, marital property is to be divided equitably between spouses, but the valuation and division of property is not always a simple task. Examples of situations where a property division must be carefully and skillfully handled include the following:
Spouses who own a closely-held or family business
Spouses who have pensions or substantial retirement assets
Spouses who own stock options or future interests that are difficult to value
Spouses who own investment property or extensive real estate holdings
Spouses whose divorce involves specialized tax considerations
A spouse who believes the other to be hiding marital property or assets
A spouse who wishes to contest a premarital agreement
A spouse who is in need of alimony or post-separation support
A spouse who wishes to pursue a claim of alienation of affection or criminal conversation.
Marcia's work as an Eastern North Carolina divorce attorney for over 30 years affords her the experience and knowledge to deal with complicated issues that often arise in divorce proceedings. She offers compassionate advice and aggressive representation when deciding whether to agree to a settlement or proceed to trial. Marcia is a savvy negotiator and litigator who will advocate for your rights to ensure you receive everything to which you are entitled.
Contact our Eastern North Carolina Divorce Attorney
Complex property divisions require knowledge of not only family law, but also an understanding that there are often other issues to address such as the tax consequences of the division. During her many years as a family lawyer, Marcia has gained vast experience dealing with all the issues involved in divorce.
When you are struggling through the difficult path of divorce, let Marcia be Strong for You. Marcia frequently obtains family law cases referred to her by other attorneys. If you need a divorce and have a complex property division, contact our firm today. Our legal staff will assist you in scheduling an appointment with Marcia.