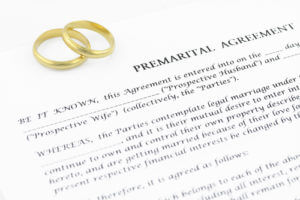 Eastern North Carolina Divorce Attorney Protecting Marital Rights
Spouses must follow state law regarding the equitable distribution of property and alimony for divorce in North Carolina. However, prior to marriage, individuals can negotiate a premarital agreement, which is a contract dictating the marital rights of spouses to property and support in the event of divorce or death. When a premarital agreement is drafted by a qualified matrimonial attorney in accordance with state law, it is legally enforceable in court.
Eastern North Carolina divorce attorney Marcia H. Armstrong is a trial attorney, mediator, and arbitrator with vast experience drafting premarital agreements and litigating contested issues regarding premarital agreements.
Negotiating and Drafting Premarital Agreements
When negotiating and drafting a premarital agreement, the important first step is the full disclosure of all property, assets, and debts of each party. A premarital agreement affects your marital rights to property and support and should only be signed after consulting an experienced family attorney.
A premarital agreement can determine the following:
Property rights of each spouse;
Management and control of property during the marriage;
Disposition of property upon divorce, death or other triggering event;
Modification or elimination of alimony;
The making of a will or trust to follow the terms of a premarital agreement;
The ownership rights in and disposition of the death benefit from a life insurance policy;
The choice of law governing the construction of the agreement; and
Any other matter not in violation of public policy or criminal law.
Challenges To and Enforcement of Premarital Agreements
When drafted and properly executed, premarital agreements can withstand challenges and are enforceable in court. As a family law litigator, Marcia can review your existing premarital agreement and offer candid legal advice as to its enforceability. If she believes you have a case to challenge a premarital agreement, Marcia is a trial attorney who will skillfully argue your case before the court.
Successful challenges to premarital agreements are rare, but they do occur. A spouse may challenge a premarital agreement during a divorce if:
The party did not voluntarily agree to the contract;
The agreement was unconscionable, meaning extremely unfair. In this situation, the party must also show that he or she did not receive full disclosure regarding the extent of the other spouse's property; or
The opposing party violated or breached the agreement.
Contact our Eastern North Carolina Premarital Agreement Attorney
If you are contemplating marriage and need an experienced attorney to negotiate and draft a premarital agreement, Marcia will be Strong for You. She also can evaluate existing premarital agreements when parties are seeking a divorce, and litigate issues involving premarital agreements before the family law courts.
Contact our firm to have our legal staff review your case. Marcia looks forward to meeting you.